Rich Text Common Module
How to configure the Rich Text common module for POWER Pro theme in HubSpot
The Rich Text Common Module is the best option for adding an iframe, but it can be added to any module with a rich text editor in the layout.
The Rich Text module can be used in the drag-and-drop editor to create custom section layouts.
Helpful Links: Settings for Theme Styles
Rich Text Content
The text can be edited directly from the module on the page or you can open it in an expanded view.
Edit in Expanded View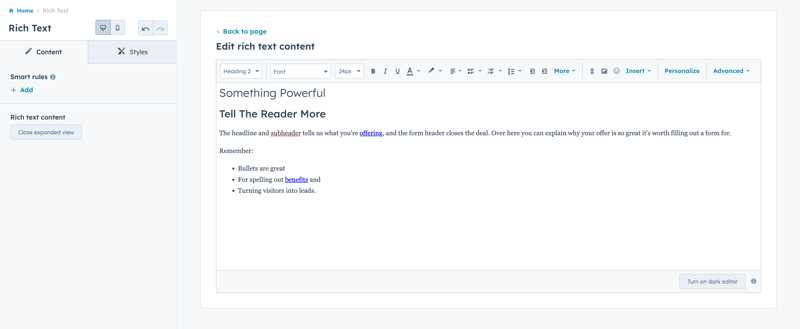 Rich Text Toolbar
The WYSIWYG (what you see is what you get) toolbar includes options to format the text in the rich text editor.
Changing the text style here will take priority over any theme or module settings, these changes are applied as Inline Styles and overwrite any CSS included in the theme.
You can change the following:
text style (paragraph, heading 1, heading 2, etc.)
choose an alternate font
change the font size
add inline styles for Bold, Italics, and Underline
change the text color
change the text background color (highlight)
change the content alignment (left, center, right, justified)
add an unordered list (bullets) or ordered list (numbers)
adjust the line spacing
decrease or increase the indent
clear the styles
click More to add Strikethrough, Superscript, Subscript, or format as a Code Block
add a link
add an image
add an emoji
click Insert to add a Call-to-action, Embed, Video (HubSpot or Embed), Table, Special Character, Icon, Anchor, Horizontal Line, or Non-breaking space
click Personalize to add a Personalization Token
click Advanced to view the Source code or Show blocks
Styles → Visibility
Option to Show or Hide on this breakpoint (based on desktop or mobile toggle selection).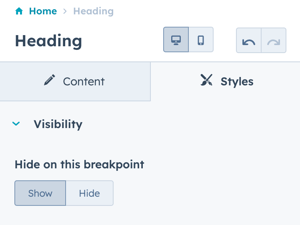 Styles → Alignment and spacing
Option to configure the padding for the Top, Left, Right, and Bottom of the module, and the margin for the Top and Bottom.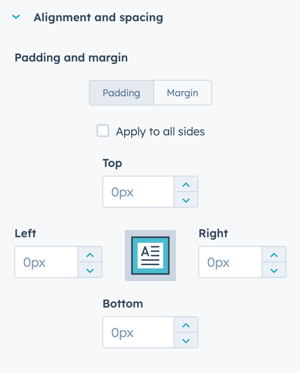 The padding and margin can be configured independently for the desktop and mobile breakpoints. Checking the box "Apply to all sides" will apply the same settings to all breakpoints and sides.
NEVER MISS A POWER UPDATE
We are continuously improving our modules and updating our documentation. Stay in the loop.