POWER is an award-winning HubSpot Theme, built for you
Now you can build a professionally designed website in minutes, not hours.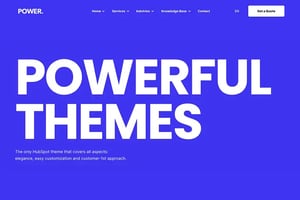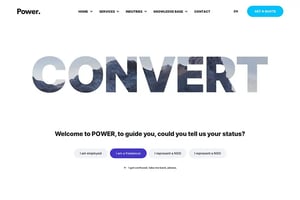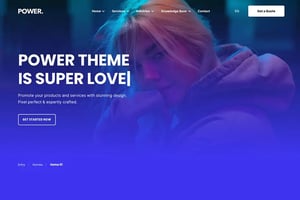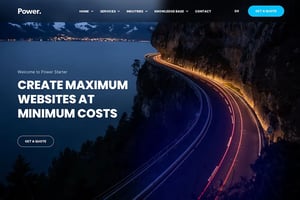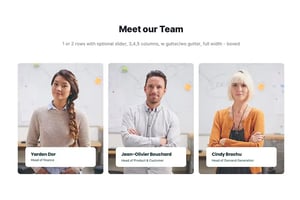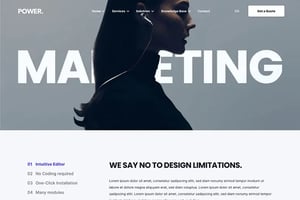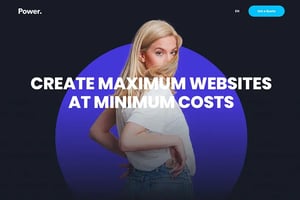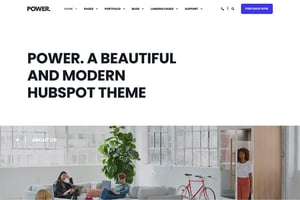 GRAND PRIZE WINNER OF THE HUBSPOT CMS THEMES CHALLENGE 2020
POWER received the highest score across three main categories: Design & Usability, Comprehensiveness, and Technical Optimization. We continuously improve the theme and are also excited to release many new features this year.
The last website theme you'll need.
Popular POWER Pro Theme Updates
Get ready to amp up your page speed and get improved results for Google Core Vitals - we've restructured the theme code to optimize the theme to perform even better than before!
With a flexible column structure and sub-areas above and below, you can optimize your navigation to create the best UX possible and improve the UI with tons of design elements!

Build a truly custom footer layout with all the features you expect from POWER, with an easy-to-design configuration with flexible columns and all the extras!
DESIGN SMARTER, DESIGN FASTER...
CREATE MOCKUPS WITH POWER
Design stunning websites in less time with our comprehensive Figma design file for POWER Pro Theme
A brilliant theme that is so easy to customise and use to give your business an impactful online presence. But what is even more impressive is the amazing customer support you can expect from the developers. Highly recommended and easy to see why this won Best Hubspot Theme of 2020!
Excellent theme with a LOT of customization and a very good "base" to start with. If you want to mess around the code it provides a very safe environment in the CSS files to go even deeper with the customization. Tech support very fast and reliable. Very recommended for any kind of client's website.
Absolutely great theme. Covers everything you need for a website, is highly responsible and also the page-speed is great. The customer support is outstanding and super fast, can´t recommend it highly enough :)
Incredible support, theme, and ease of use. This theme was exactly what I was looking for and has incredible flexibility in terms of the design, customization, and more. The team at Maka Agency were also incredibly kind in helping me get setup and convert some of my changes to the latest versions.
The POWER Pro theme is an excellent set for the quick construction of a website, easy to use and what is more important with an exceptionally good support.
Maka Agency designed something beautiful and functional here. They also supported us when we had questions. The backend is solid. Well built template. 5 stars for sure.
1,5 years ago we rebuilt our site strauss-media.de with Power Pro and we are still happy with this decision. A very professional look, and quite easy to use. There are many page examples, and with lots of templates and modules you can go very, very far and get wonderful pages - and completely without CSS and/or HTML. There are a lot of customization options out of the box. On top of that, the theme is constantly being developed, there are updates with new functions or features several times a year. It's great Maka, keep it up :-)
Easy to use and quick support!
Very intuitive to use and easy to modify both as a non-developer and in design files. Had some issues with installing an external font, but support were quick and very helpful.
Super versatile, great support, plenty of customization. What's not to love?
The theme has been extremely easy to use and has saved us so much time. We were able to get a new website stood up in just a few weeks! Each module has a ton of flexibility and the documentation is very easy to follow!
We had a site mocked up in hours that saved us a massive amount of time. The modules are really flexible with loads of options.
This theme worked very well for us, improving our speed, layout options, and design potential. I love that they keep this theme updated with regular feature improvements and bug fixes. As with any theme, there are some minor issues and restrictions, but overall this is a great theme and are very happy with it.
Beautiful, customizable theme - have used it multiple times. I think the folks at Maka do a great job of delivering a functional theme that is easily customizable and functional. They update it often, so new features find their way into our website as we growth hack it. They do a good job putting the customization tools in the theme editor. There are also a lot of independent customization options, so you're easily able to override things when needed.
Very easy to use theme that works very well. Super easy to build different webpages with the amount of available modules. Very good and quick support who always tries to find a solution quickly! Very easy to customize and to adapt to your company branding. Easy of use, available amount of modules and definitely the support!
Need help building your website on the HubSpot CMS?
Our Developers can help with theme extensions, CRM objects, HubDB integrations, Serverless functions, foreign APIs, memberships, and more.
Need to enhance an existing module or create a custom module for your website?
Yes, we can do that.
Before launch or after go-live, our team can help button up your site, from design tweaks to technical SEO review, and all the details between.
The Best Template from the Best Team
"The product is built with great care. Their service and customer support are amazing.
The communication was always speedy and clear. We have only good things to say about the MAKA Team, and are definitely looking forward to working together with them again soon."
Amazing to work with
"Maka has excellent: - modules - customer support - web dev - problem solving.
I highly recommend them! You won't regret!"
Great Service, Flawless Execution!
"I highly recommend working with MAKA. Markus in particular was extremely helpful in implementing a theme customization that included custom modules, serverless functionality and hubDB.
I came to them with a difficult project and they took the time to fully understand what I was looking to accomplish and executed it perfectly! Highly Recommend!"
Brilliant team and theme. highly recommend
"I worked with Maka after purchasing their POWER theme for the HubSpot CMS. From pre-purchase through to getting our site live they have been excellent, very open to support and went above and beyond helping us customise parts of the theme to suit our use case.
Really nice people and very knowledgable. Highly recommend and thank them for their support."
Web development and customer service experts
"I have used HubSpot for over 6 years now, building and hosting websites on the HubSpot CMS at three different companies. Each time working with a HubSpot agency to configure their theme to my requirements.
maka Agency is simply the best HubSpot Web Design & Development agency I have worked with. maka Agency has built their POWER THEME with so many features built-in that it can truly be configured for any requirements, plus, their customer service is fast and responsive.
They are very highly skilled and knowledgeable, and can professionally translate your requirements into an amazing website, at the same time guiding you on how to get the most out of HubSpot's CMS.
I am 100% happy to recommend working with maka Agency for your web design and development projects!"
Excellent agency with the best theme in the marketplace
"Very pleased to recommend Ergün and Markus from maka Agency for HubSpot CMS.
Their POWER theme won HubSpot's "Best all-round theme of 2020" which showcases their creative and technical ability. Easily my preferred choice for all CMS projects."