POWER Sec Breadcrumbs Module
How to configure the Sec Breadcrumbs module for POWER Pro theme in HubSpot
Very minimal impact to page load speed, the code for this module has been optimized to limit resources needed on page load.
Place your breadcrumbs in the same place across all pages where you'll be using breadcrumbs.
It is recommended to add for all pages within the same navigation path.
Can I use anchor links in the Breadcrumbs?
Yes, it is possible to use an anchor link on the page, using "External" for the Link To and the anchor (ex: #anchor) as the URL.
Breadcrumbs are typically reserved to show the path the user has already taken, so while it is possible to use this for links on the page, we recommend using the Sec Sticky Sub-Menu module instead.
Breadcrumb
This is where you will add the items that appear in the breadcrumbs.

There are no breadcrumbs added by default, you'll need to click "Add one" to create the first link.
Once you have added your first breadcrumb, there will be a "+Add" link to create additional links.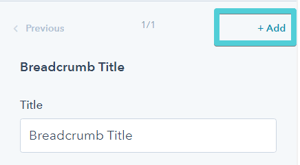 Breadcrumb Item(s) > Title
This is where the title/text goes that you want to display for the breadcrumb/link.
Breadcrumb Item(s) > Link
The Link dropdown allows you to choose the type of link to include for the button: External, Content, or Blog
Based on your selection, you can either add the URL or choose the page or blog post.
Breadcrumb Item(s) > Link > Open in New Window
There is a toggle to allow you to open the link in a new window. The default is set to open in the same window/tab.
Tip: Since breadcrumbs are used to show the users path to the page, it is recommended to open in the same window/tab.
Breadcrumb Item(s) > Link > Link Type
There is a check box for "No Follow" which allows you to indicate that the link is not associated with your website. This setting has SEO implications if used incorrectly.
Breadcrumb Item(s) > Animation
You can also override the default animation settings at the item level.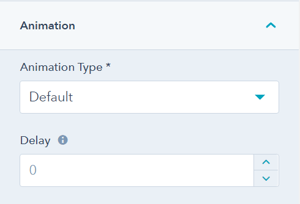 Layout > Padding Top and Padding Bottom
Choice of Standard, None, Small, Medium, Large, or First Section with Header. Refer to Settings that apply to all Section Modules for more details about these choices.
Style > Color Scheme
Choice of Light or Dark.
Tip: If you change the background color for the module, the definition of Light Color scheme is a light background with dark text and Dark Color scheme is a dark background with light text. Based on your background color, you would need to toggle the color scheme to ensure the text color displays properly and is legible.
Style > Background
Choice of Background Color, Primary Background Color, Background Image/Video, Background Gradient, or Transparent. Refer to Settings that apply to all Section Modules for more details about these choices.
Animation
Checkbox to turn on/off Animate on Scroll. Turning off here will only apply to this section, to turn animation off globally refer to Theme Options for Animations.
Animation > Section
Ability to change the Animation Type and Delay for the Section.
Anchor Link ID
Set an anchor link for the module. Can be used to create a link directly to that section on the page and/or to include in an on-page menu (like Sticky Sub-Menu) to allow users to jump to that section without scrolling.
Easily add an anchor link to this section, for full instructions refer to Setting up Anchor Links.
Custom Class
Ability to add a Custom Class to use in the child.css for individual customizations.
See full instructions for setting a Custom Class for Section Modules.
NEVER MISS A POWER UPDATE
We are continuously improving our modules and updating our documentation. Stay in the loop.