MINI MODULES
How to add CTAs, Tags, and Icons to your website pages using Mini Modules
A mini module can be used in a custom drag-and-drop section to quickly add tags, icons, and CTAs or buttons.

Ready to enhance your custom section layouts? Check out our Mini Modules!
With Mini Modules, you can use HubSpot's drag-and-drop page editor to its full potential:
How to find Mini Modules in the Page Editor
Mini Modules are labeled in the Page Editor as "Mini" and are flexible modules that allow you to enhance your section layouts to add emphasis to your page designs.
Available Mini Modules: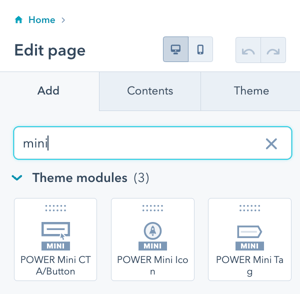 Adding Mini Modules to a Section
Once you've added the main content to your section, drag and drop a Mini Module into the Column where you'd like it to go.
Settings Available for all Mini Modules
These settings apply to all Mini Modules, for detailed settings for individual modules, refer to the module library.
Animation
Checkbox to turn on/off Animate on Scroll. Turning off here will only apply to this module, to turn animation off globally refer to Theme Settings for Animations.
Next Steps
Now that you have the POWER to enhance your page layouts with Mini Modules, discover all the powerful features in our Module Overview.
Next up:
NEVER MISS A POWER UPDATE
We are continuously improving our modules and updating our documentation. Stay in the loop.