The Standard padding size is ~135px and is the default padding for Sec Modules.
There are 2 sections in Theme Settings for Layouts: Layout and Section Paddings
Layout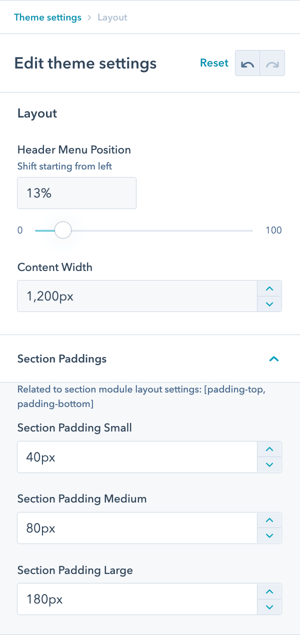 Layout → Header Menu Position
Depending on your logo size and the number of items in the header navigation, you may need to adjust the position of the menu which can be done here using a percentage of the page width.
The shift value is a percentage value and controls the padding starting from the left of the logo.
Layout → Content Width
The default Content Width is set to 1200 px for desktop devices.
Layout → Section Paddings
Within Section Modules, you have a choice to adjust the padding for the top and bottom of the section.
All POWER section modules have a standard top and bottom padding that is optimized to have the same height and visual consistency across all section modules.
In addition to Standard (theme default) and None, you can configure a Small, Medium, and Large padding based on your design guidelines to easily adjust the padding from module to module and page to page and maintain consistency.
This global setting also lets you easily adjust the settings across all section modules and pages in one location.
NEVER MISS A POWER UPDATE
We are continuously improving our modules and updating our documentation. Stay in the loop.