Landing pages are all about first impressions! If landing pages are not state-of-the-art, the company becomes outdated and suffers from low conversion rates.
Have you ever heard of the HubSpot marketplace? HubSpot offers premium landing page templates that drive higher conversion rates. The prebuilt landing pages are highly adaptable and customizable.
A modern and professional HubSpot landing page template can boost your conversion rates – an outdated and chaotic one can break them!
Pretty easy, right? Stop using outdated, chaotic landing page templates and fix your conversion rates. The chances are that you have already read of something similar beforehand. But what exactly is a "modern" and "professional" landing page template? What makes a HubSpot landing page template converting? And what is the secret spice that makes them exceptional?

We will showcase our favorite landing page templates from the HubSpot marketplace to you with all these questions in mind. Be aware that custom-tailored solutions based on your business and buyer personas can only achieve the highest conversion rates with custom-tailored solutions based on your business and buyer personas. You can NOT find that in the HubSpot marketplace. However, there are excellent landing page templates that stand out as a time-saving and modern-looking basis to build your perfect landing page. We have chosen the following exceptional HubSpot landing page templates for your next project:
Premium Content Landing Page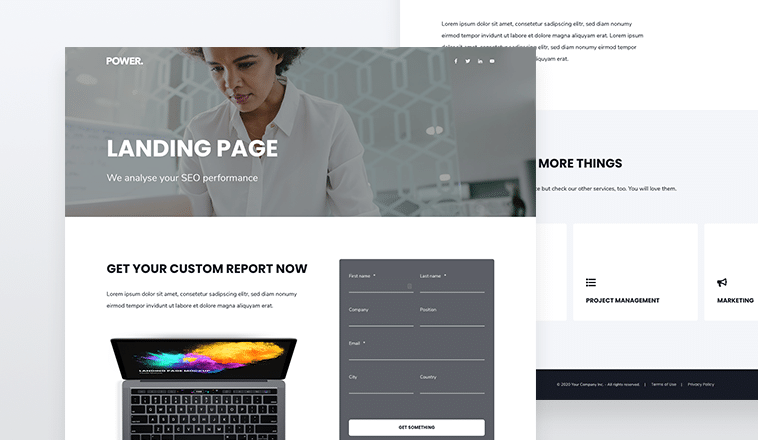 This landing page template's versatility makes it one of our favorite ones. It was mainly built to work for all kinds of premium content, such as eBooks, Checklists, Guides, or App-Demos. It can also be used for basic email subscriptions and as a general-purpose template. This is possible because of its high flexibility and personalization options.
Get a Quote Landing Page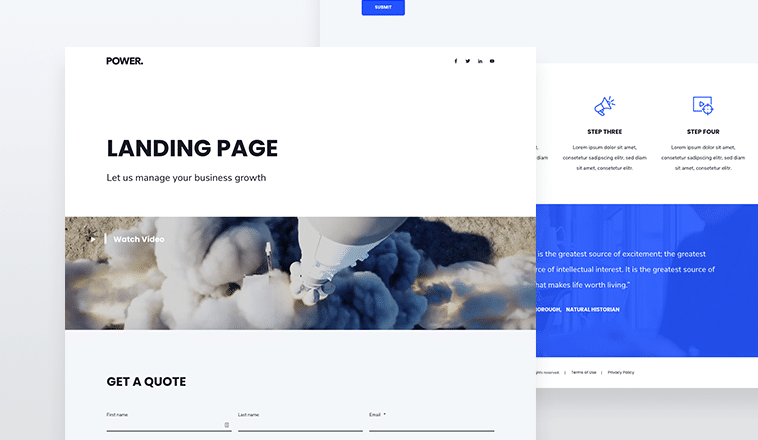 This fancy landing page template offers the main video to boost user engagement. It can be used to add additional information (about the offered services) and as social proof (in the form of customer testimonials). This template's main feature is the large form, which makes it perfect for use cases like service upselling, registration, or more complex premium content (software, apps, etc.).
Webinar Landing Page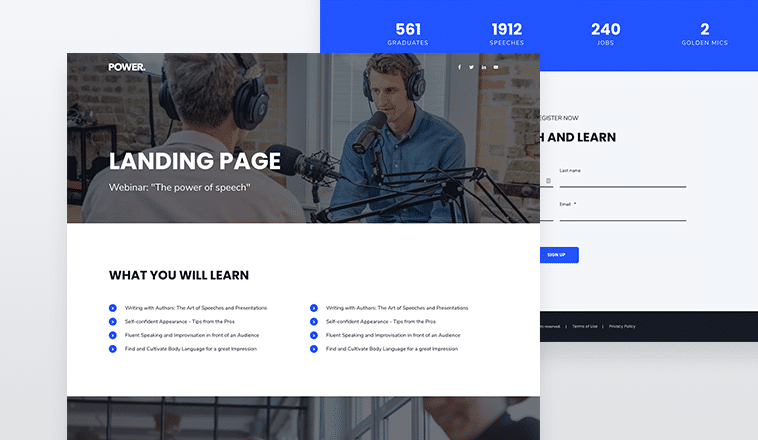 Webinars are getting more and more important for companies today. They are used to nurture leads throughout every step of the buyer's journey. According to statistics, the impact of webinars is remarkable. When the general online attention span is concise, the importance of effective webinars should not be overlooked.
If you are creating webinars, you need a modern way of presenting them. Use this webinar landing page template from the HubSpot marketplace to instantly showcase your videos. This template will ensure that your visitors watch and are interested throughout the webinar. It offers a salient hero image, a brief overview of the webinar, a form section (which leads to the webinar itself), and a section with basic meta-information (e.g., duration, date).
Event Landing Page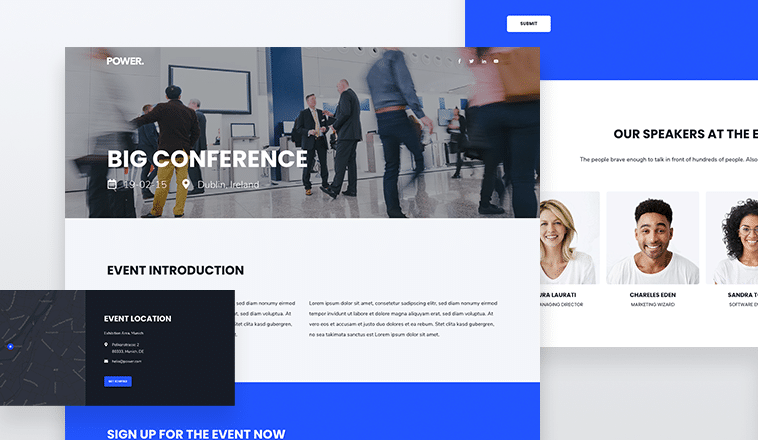 This event landing page template represents one of the most sophisticated pages for events. Typical use cases include conferences, company events, seminars, meet-ups, etc. It displays the following: main event image, location and date information, a brief introduction, a sign-up form, a schedule, a list of partners, and a contact section (including a map and company information).
Generic Landing Page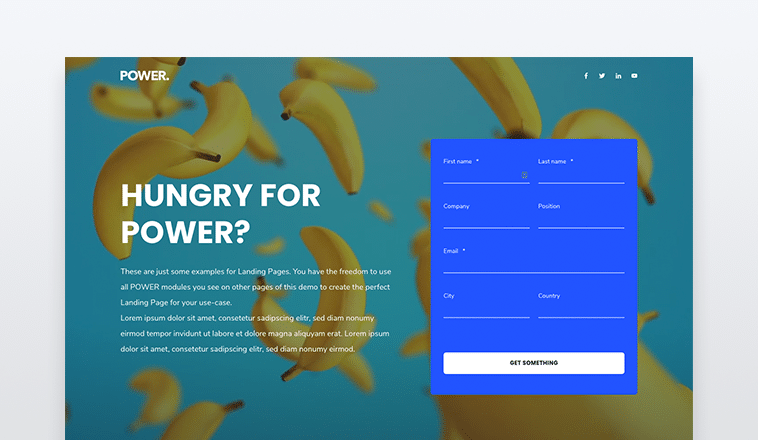 The minimalistic design of this landing page template makes it striking for various applications. This template offers a subtle design, versatile background options, and a horizontal layout (of text and form). These qualities drive the website visitor to convert. Use-case examples include a basic sign-up and registration page, promotion purposes, basic premium content, downloads, and feedback forms.
The wrap-up
Each of the presented landing page templates from the HubSpot marketplace follows the newest design and usability trends. Some of them are targeting more specific topics like webinars or events. However, their versatility grants you the possibility to build a landing page that fits any purpose. These templates are modern, professional, and state-of-the-art. Ensuring that the user is focused on the page's content, creating a good basis for a landing page that converts.
POWER THEME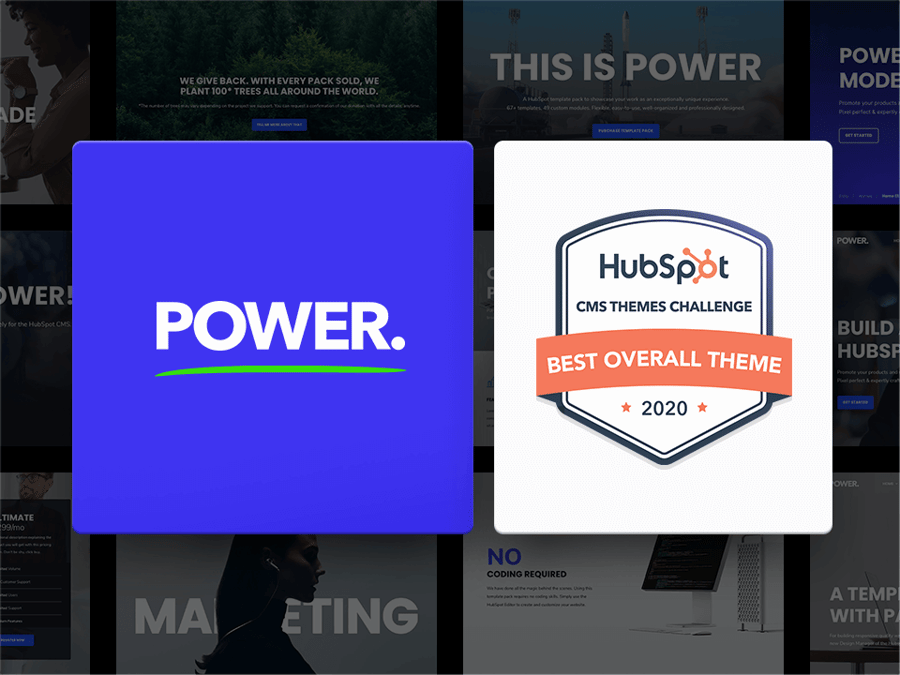 Do you need more than one landing page template from the HubSpot marketplace? Additionally, do you want to build a website in the same style? Feel free to look at our award-winning POWER THEME, including 9 landing page templates, 38 website page templates, and 2 blog templates.