⚠️ If you purchased the full pack instead of the theme, please read the documentation of the full pack here
System Pages
HubSpot uses a collection of system pages, templates for each of these pages are included with the POWER theme. The following system pages are used in HubSpot:
1. Error Page 404 (preview)
2. Error Page 500 (preview)
3. Password Prompt (preview)
4. Search results page (preview)
5. Email Subscription Preferences (preview)
6. Email Unsubscribe Page (preview)
7. Email Subscription Confirmation (preview)
Configure Templates
In order to use the templates you can assign them in the settings here: "Settings" → "Website" → "System Pages"
and here "Settings" → "Marketing" → "Email" → "Subscriptions"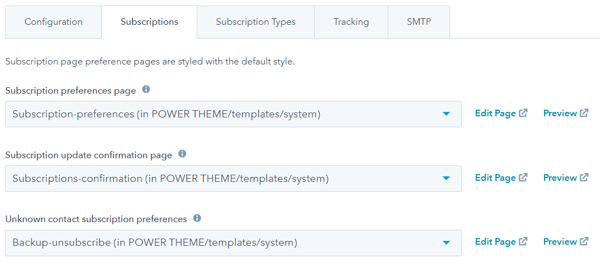 You will see an instance of the template for each version of POWER in your portal. For example, if you have setup your child theme, you will see two pages listed: the first for the parent/marketplace theme and the second for the child theme.
TIP: if you are managing multiple brands or have more than one child theme, the dropdown choices will display in the same order that the themes appear in Design Tools.