Where can I change the default text for a module (i.e. "Start Reading" or "Read More")?
Modules with default text have a setting called Standard Text / Translation where this text can be modified.
For modules that have default text, you will find a setting in the Content tab for "STANDARD TEXT / TRANSLATION" - default text items are text that have to be coded into the theme for the module to display correctly.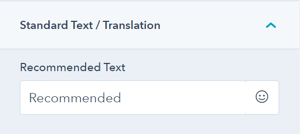 The Standard Text / Translation allows you to change the wording of the default text or add a translation for your language.
Clone the translation.html file from the marketplace theme to your child theme to modify the defaults across all locations.
Learn more about using multiple languages or settings for non-English website.