Update the template settings to your child theme and configure the global header and footer for system pages
The POWER logo is showing on your system page templates for one of two reasons:
the Landing Page AND System Page header/footer haven't been configured
In v24, a new variant was added to allow for a separate configuration for the System Page header/footer - this identifies the Search Results and 404/500 Error Pages by their unique page ID and allows us to overwrite the default header/footer for these pages (which would be the landing page header/footer) to provide more flexibility.
From the global content editor for the header (or footer), on the Contents tab, choose the System Page variant to edit the settings: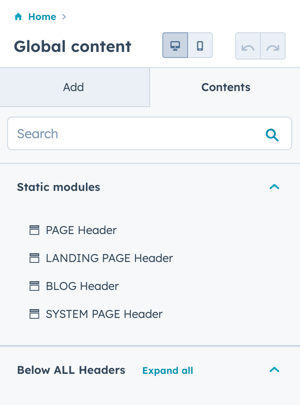 When you open the global content editor, it will default to the Add tab, make sure you click the Contents tab to find the list of variants.
To edit the System Page variant, you can open the global content editor from any of your website pages.
There isn't a preview available for any of the system pages while editing the header/footer, the preview on the right will reflect the PAGE variant (or BLOG or LANDING PAGE variant depending on the page you opened the preview with).
The easiest way to configure the System Page variant to match your Page variant is to open the global content editor in two separate windows or tabs in your browser.
You can refer to the Page setting while building the System Page settings - make sure you close the Page window/tab before you publish from the System Page window/tab to avoid any caching of the settings.
The hero background on system pages is white, if your Page header uses a transparent background, you'll want to configure the System Page header without the transparency.