What properties are searchable?
Site search can access the Title, Meta Description, HTML, Author Name, Author Handle, and Tag properties which can be controlled via search settings.
If you have Search activated in the header, you can adjust the included properties via Search Settings -> Search in Properties: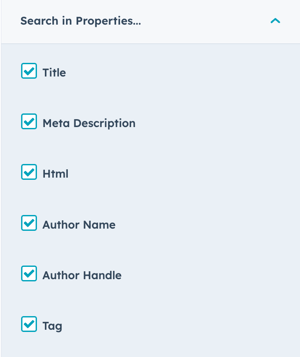 All properties are included by default and are dependent on the header type used.
You'll need to configure the Search Settings for each header variant (Page, Landing Page, Blog and System Page) which gives you the most flexibility to control what displays via search.
For example, if you only want blog authors searchable via the blog, you can uncheck the setting for your other header types.
The same settings are available if you're using the search option in the Sec Hero module.