How to create a child theme?
From Design Tools, right-click on the marketplace theme folder and choose Create child theme
From your HubSpot account, navigate to Marketing → Files and Templates → Design Tools

In the theme directory on the left sidebar, navigate to @marketplace → maka_Agency → POWER THEME

Right-click on POWER THEME and click Create child theme

Enter a name for your child theme, use a unique name such as "POWER x YOURBRAND"

Click Create Child Theme

Click Close
Your child theme directory should look like this: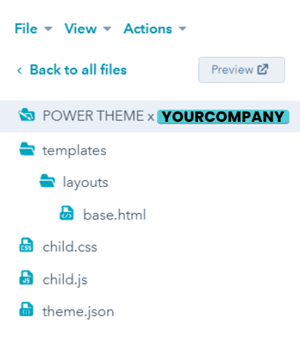 ⚠️ These are the ONLY files needed in the child theme to build your website, all of the templates and modules are inherited from the marketplace theme.
PLEASE DON'T CLONE ALL THE FOLDERS AND FILES!
More information about using a child theme for custom development.