How do I edit Theme Settings?
Access Theme Settings from Tools in your HubSpot Settings or directly from the page editor
There are two ways to access Theme Settings, depending on what you're working on, both are helpful to know how to find.
Settings → Website → Themes → POWER x YOURCOMPANY child theme
If you're just getting started and haven't created any pages yet, you'll want to access from settings.
From your HubSpot Settings, on the left sidebar scroll until you reach the Tools section, expand the Website section and select Themes.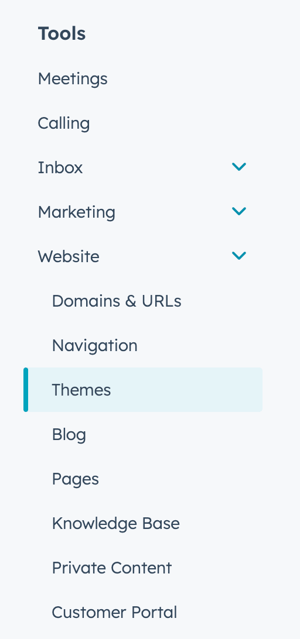 Once selected, you'll see all of the themes available in your account - make sure you choose the child theme.
Page Editor → Theme tab → Edit Theme Settings
If you're already building pages and need to make an adjustment, you can do so quickly and easily right from the page editor by clicking the Theme tab.
The theme tab is accessible in the original HubSpot Page Editor UI.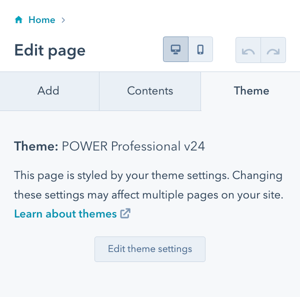 Page Editor → Edit → Theme: POWER x YOURCOMPANY child theme
If you are in the new Page Editor UI beta, you can access the theme from the Edit menu: